Biodiversity
IDFC contribution to FiCS 2022
17 October 2022
The third edition of the Finance in Common Summit took place from the 18th to 20th of October in Abidjan, Ivory Coast.
Co-organised by two multilateral development banks (MDBs), the African Development Bank (AfDB) and the European Investment Bank (EIB), it took place in Africa for the first time. Attended by over 700 guests in person, the summit focused on accelerating green and just transitions for a sustainable recovery, bringing together numerous public development banks (PDBs) as well as international organisations, regional networks of PDBs and Development Finance Institutions (DFIs), civil society, regulators and private sector operators. It highlighted PDBs key role in supporting the transition of economies and financial systems towards sustainability, while leaving no one behind and addressing the most vital and pressing needs of countries and vulnerable groups.
The summit showcased a shared vision among FiCS members in favour of a sustainable investment policy for development.
Since 2020, FiCS members work to scale up sustainable finance flows, including climate finance, in line with the objectives of the Paris Agreement. They also expressed their readiness to help align all financial flows with the future post-2020 Global Biodiversity Framework.
Reaching 51 billion US$ for climate finance in low and middle income countries, which represents 62% of their global climate finance figure of 82 billion US$, MDBs' commitments last year were 63 billion US$ for mitigation and over 19 billion US$ for adaptation, according to the 2021 Joint Report on Multilateral Development Banks' Climate Finance published shortly before FICS. Climate finance committed by major MDBs in 2021 already delivered more than their collective goal for 2025. MDBs achieved substantial progress in developing further methodologies for Paris Alignment as well as working on updating their adaptation finance tracking methodologies..
In addition to a specific Adaptation Report, the International Development Finance Club (IDFC) reported, through the Green Finance Mapping (GFM) published at the summit, a record level of 224 billion US$ of green and climate finance in 2021 (+20% compared to 2020), which puts IDFC members on track to reach 1.3 trillion US$ of green finance between 2019 and 2025. Today, climate finance accounts for an average of 20% of total commitments made by IDFC members. If PDBs were to commit to a similar ratio, they could extend more than 500 billion US$ of climate finance per year, and mobilize much more through the private sector. As biodiversity finance originated by the Club also rose from 14 to 18 billion US$ in 2021, IDFC developed a Toolkit for financial institutions to mainstream itmainstream biodiversity finance.
Green Finance Mapping 2022
IDFC members delivered a specific Adaptation Report, outlining the progress made by the IDFC in financing adaptation investments while highlighting the imperatives for adaptation finance. To increase volumes, MDBs and IDFC members call on overcoming strong barriers linked to the lack of commercially viable projects and incentives to invest in adaptation, and implementing projects to reduce the increasingly sever effects of climate change, especially in the African and Latin American and Caribbean regions, as well as small island developing states and least developed countries.
adaptation report
A number of IDFC members also contributed to a new UNDP-FICS Joint Report on PDBs Role to Scale Up Sustainable Finance (The role of Public Development Banks in scaling up Sustainable Finance | United Nations Development Programme (undp.org). through interviews and case studies, it explores public development banks' (PDBs) roles, progress, and challenges to scale sustainable financing in alignment with the Sustainable Development Goals (SDGs) and Paris Agreement.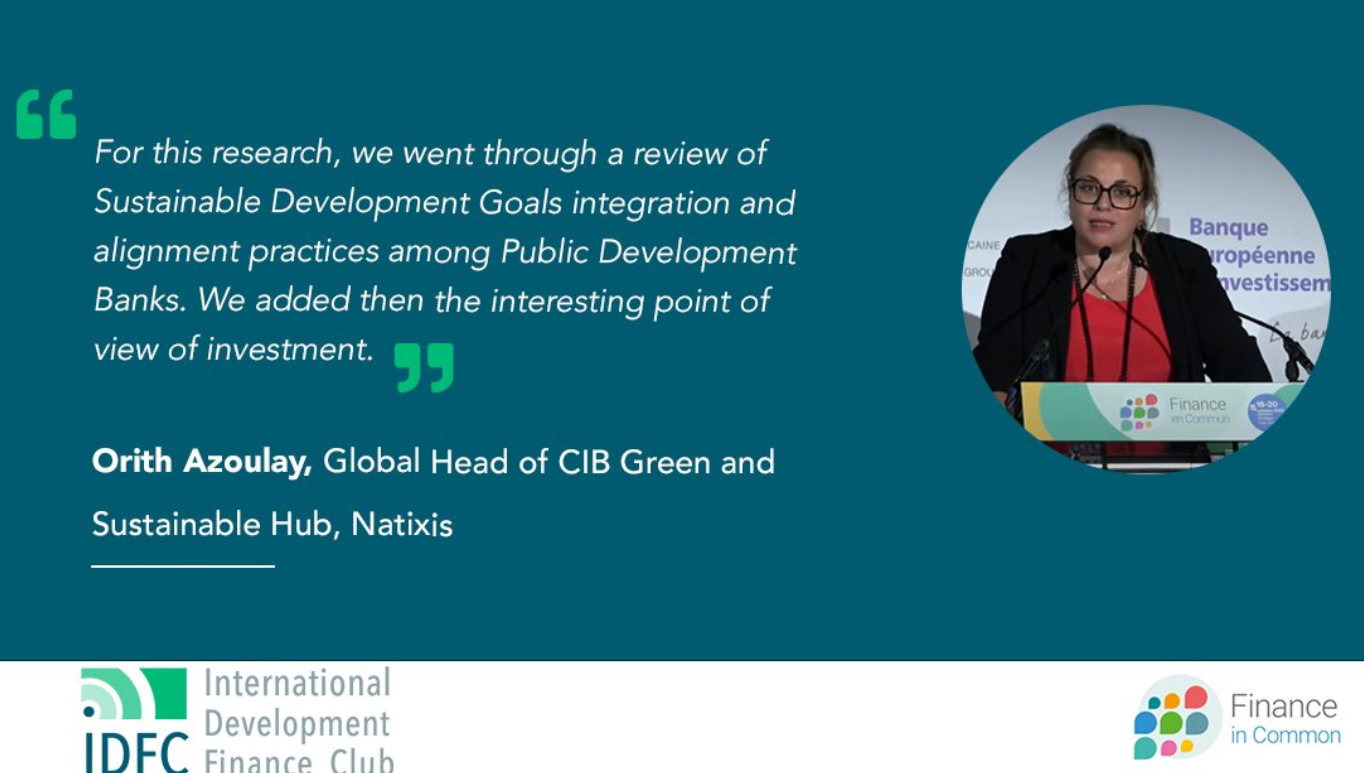 Finally, selected IDFC members contributed to the first FICS Progress Report to the G20, which focuses on four development challenges (sustainable finance, health, energy and food security), demonstrating the role that PDBs can play, alongside their governments, to scale up sustainable finance and help implement the G20 Sustainable Finance Roadmap.
Click here to read FiCS communiqué