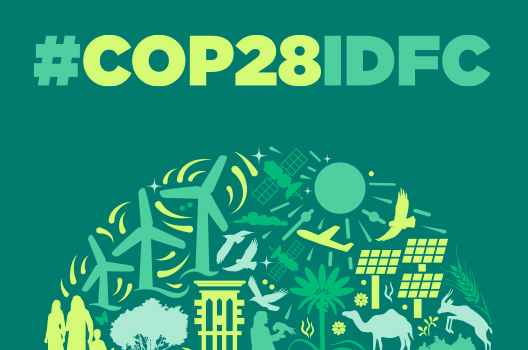 Climate
#COP28IDFC Pavilion agenda and members' participation
24 October 2023
For the fourth consecutive time, IDFC is organizing a Pavilion to the 28th Conference of the Parties to the United Nations Framework Convention on Climate Change (COP28).
This conference will take place at the Expo City in Dubai from 30th November to 12th December 2023.
The COP28IDFC Pavilion is a platform for our members and partners to showcase their ongoing projects and concrete deliverables for the use of our members and development actors more broadly.
The Club is expecting more than 30 events co led by 9 members (AFD, BICE, BNDES, CABEI, CAF, DBSA, JICA, KfW and PTSMI) and 7 partners (MCI, I4CE, IDDRI, UNOPS, UNEHS, ETP and CPI).
Key topics as carbon market, nature-based solutions, forest conservation, urban infrastructures, agriculture, energy or blue economy are covered. The panels are also addressing the question of Paris agreement alignment, climate finance post-2025 and the role of public development banks in transforming Financial Systems for Climate and Nature among others.
Finance in Common side event on MDB pavilion
FICS Special Event "PDBs working as a system – innovation and knowledge to unlock climate finance at scale" organized during COP28 on 3 December 2023 from 15:30 to 17:00 PM (Dubai time) at the MDB Pavilion.
The event will be moderated by Ms. Kate Warren, Executive Vice President & Executive Editor of DEVEX, and will feature the following confirmed high-level speakers (Rémy Rioux, Chairman of Finance in Common, Javier Diaz, CEO of Bancoldex, Ambroise Fayolle, Vice President of EIB, Jin Liqun, President of AIIB, Barbara Buchner, Global Managing Director of CPI and Adama Mariko, Secretary General of Finance in Common).
The event will provide an opportunity to highlight the contribution of Public Development Banks to the transformation of financial systems towards sustainability, by presenting the key outcomes of the Cartagena Summit and further discussing the role of innovation and knowledge in this process including with the audience.
Other IDFC members having their pavilion at COP28
CAF
CAF will take to the COP28 in Dubai an unprecedented pavilion dedicated to promoting the region's climate interests and positioning them in the global negotiations on climate change. Under the slogan 'We Are Solution', the pavilion will present Latin America and the Caribbean as a region of global solutions to ensure the sustainability of the planet.
The LAC Pavilion at COP28 in Dubai, designed, managed and financed by CAF, will become a space for meeting, debate and analysis on the most burning issues of climate action in the region, and will be available to Latin American and Caribbean, media, NGOs, community leaders, indigenous communities, Afro-descendant peoples and civil society.
The LAC Pavilion will host more than 20 events and will have a television set where leading global experts on climate change will be interviewed. All this activity can be followed live and recorded through a special website prepared by CAF.

Click here to access the CAF agenda at COP28
BOAD
BOAD Pavilion will provide a platform for discussion and ensure that WAEMU members states concerns and priorities are adequately considered during the climate change negotiation process of the Parties to the UNFCCC (COPs). BOAD Pavilion therefore provides space and a voice for BOAD's Climate action and development priorities. It is also a venue for networking of officials from Member States, as well as participants from policy, science and practice communities.